Order Wingworks Ballistic Vests
Ballistic Vests will have a few new updates and options as we move further into Fall.  On this run you'll notice the mesh material on the back portion of the game bag and zipper pouch to help cool down game.  It also lightens the vest up by removing a couple of heavy fabric layers.  Please note that Gamebags are for a time only available in Blaze, and harnesses and shellpockets only available without Blaze.
The basic ballistic vest package price is $220.00 plus $15 shipping with 2@32 oz water bottles.  It includes most options available on our Cordura vests, and reflects the higher material price and sewing costs.
The 1050 denier Ballistic cloth is 100% nylon and is heavier and denser than 1000 denier Cordura, though softer to touch and less stiff than Cordura.  The weave pattern is larger, called basketweave, and each fiber group is thicker than in Cordura.  It's commonly used on the roll around black luggage seen in airports, and over time holds it's body and stiffness a while longer than Cordura in hard use.  These vests use ballistic on the gamebag , shell pockets and belt.  Bottle holsters and harness are mil-spec Cordura.  Ballistic is the industrial version for trainers and hunting pros who use a vest every day, or for the serious hunter who appreciates its' quality.  Shellpocket sides have the flatter slash pockets, the shorter one as an adaptor for some handheld dog electronics when used with a snap strap for that model.
An optional 54 oz plastic bottle fitting the gamebag accessory pocket is available in Accessories and takes water capacity to nearly 120 oz.   The vests aren't designed to be adaptable with common water bladder sizes, but some of the smaller hydration reservoirs will fit in the rear 9 x 9 inch gamebag accessory pocket if necessary.
If you are interested in the 

Removable Pistol Holster

pre-mounted on your vest, please check it out on the Order Vest Accessories page or use the link.  We recommend these for smaller frame synthetic semi-autos on the Medium and Large vests. XLarge and 2XLarge have adequate room on the 2″ belt behind the shell pockets for a variety of belt holster styles.
Flatter and shorter Grouse Pockets are available in plain Khaki Ballistic only to help lock out debris in thick cover, but lack the versatility of the long pockets for most Western hunting.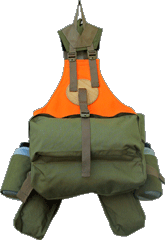 Large vests most typically fit hunters with a "waist at navel" measurement of between 34 and 40, while XLarge covers roughly 41 to 47. There are other variables which may affect size that we'll double check from the measurements you provide  on the order form below.
---
NOTE #1: On the order form we ask only for measurements, color choices, and a few options.  We will determine the best vest size from those entries.  If you have any special info that might influence size, please enter this in the text input box at the bottom of the form!  See Most Popular Vest Accessories
ORDER FORM/ WINGWORKS BALLISTIC VESTS  $220.00 plus $15  SHIPPING to CONTINENTAL US, $25 to ALASKA, and HAWAII, $30 to CANADA.
Shell Pocket Measurement Explained
If you want a more precise check on how a vest size will fit, this measurement will tell us where the shell pockets will lay out on both sides of the body. Shell pockets should lay out about where six gun holsters would, roughly under the shoulders on each side. Too far forward, and the hunter will walk into them, too far back makes for awkward reaching for shells. Our foam waist belt usually rides about centered at navel level, with fixed shell pockets for each size located towards each end of the belt.
Wearing your most typical hunting clothes, stretch a tape around the small of your back at navel level, and place one end roughly under the left shoulder line, the other roughly under the right shoulder line, you will get a center to center measurement for locating the shell pockets. This will give a number to establish shell pocket center placement on each side to compare with the four sizes we offer.  The shell pockets are 6″ wide. The optimum pocket center is under the shoulder line or slightly forward.  We're looking for a number typically between 18″ and 30″. If the back measurement is right, go with it, and don't worry about a belly. The 2″ belts in front are plenty long to accommodate.