Wingworks offers serious bird hunters a heavy duty upgrade of the versatile strap-style upland wingshooting vest.
Originally developed by chukar hunters in the high-desert Northwest, Wingworks feature a weight bearing waist belt, 100 oz. plus water capacity and restriction-free movement for walking and shooting.They accomodate the layered clothing approach to the variety of weather encountered in fall hunting conditions. Durable Mesh, Cordura and Ballistic Cloth construction, simple adjustments, exceptional load capacity and small body footprint set WingWorks apart from the rest. Built to hold up to hard use day after day, in a variety of climates and terrain.
Questions? Email us at info@wingworks.biz
Mouse over photos for text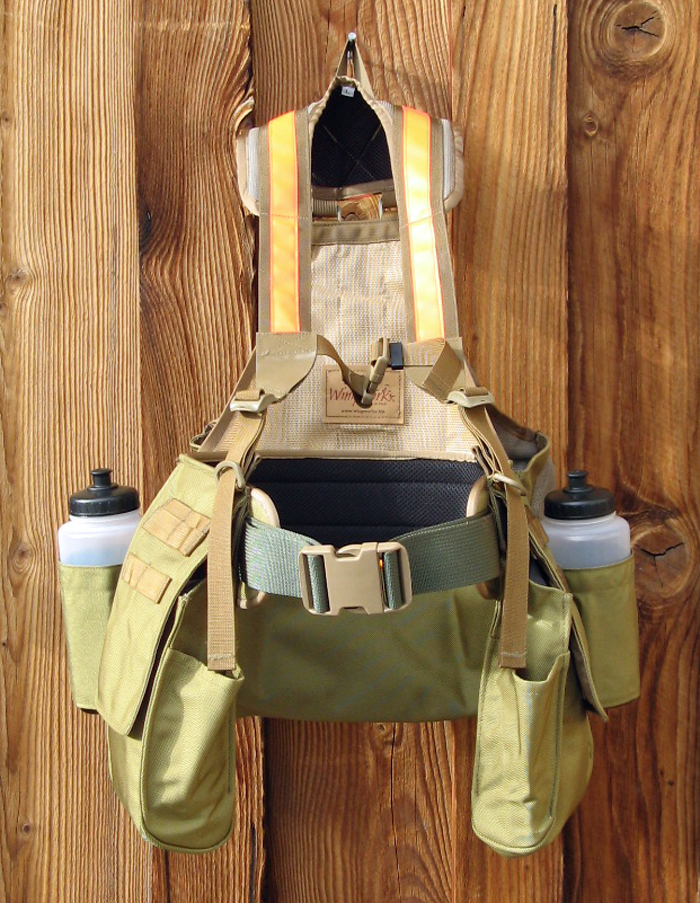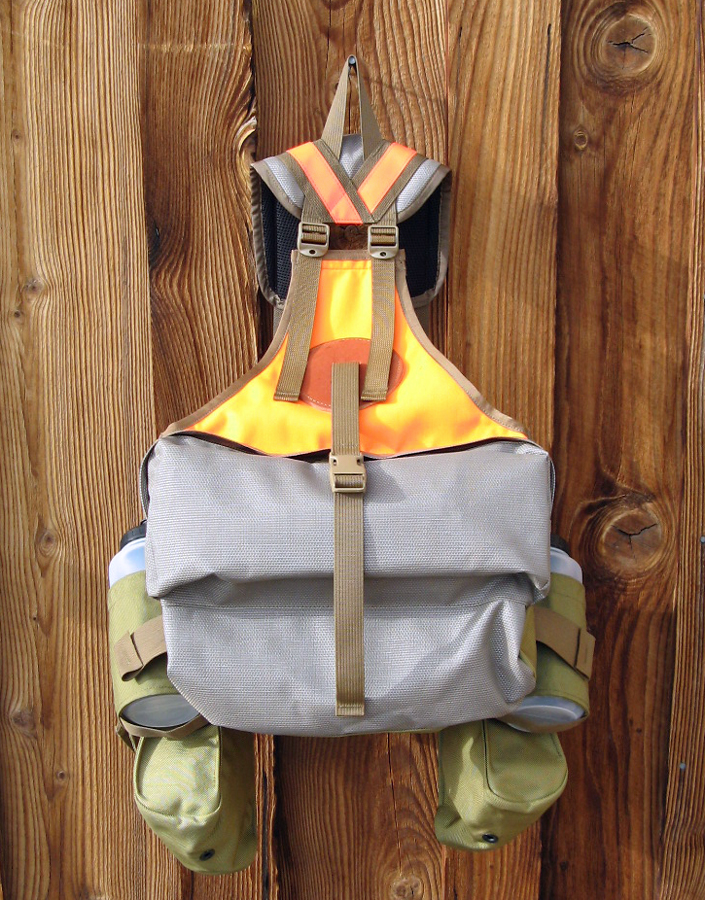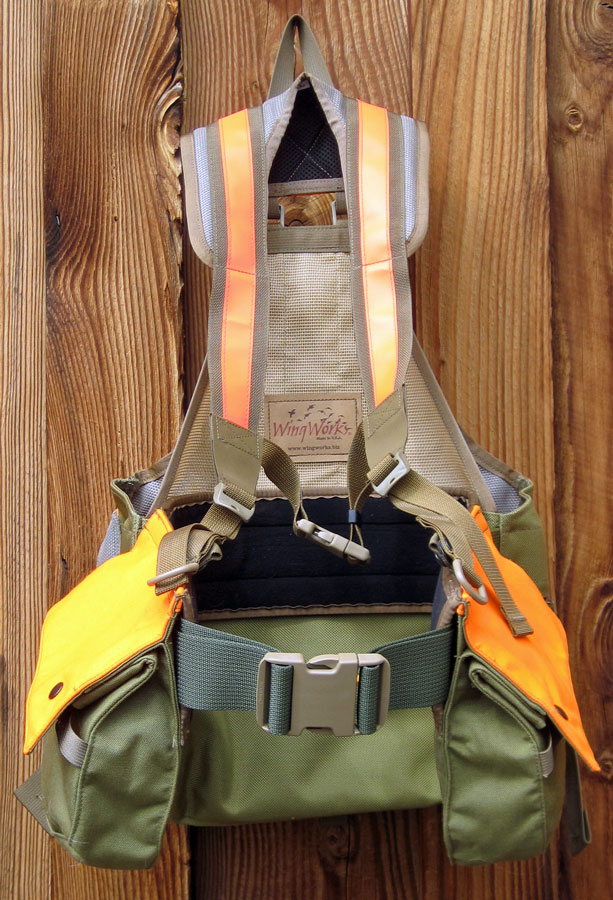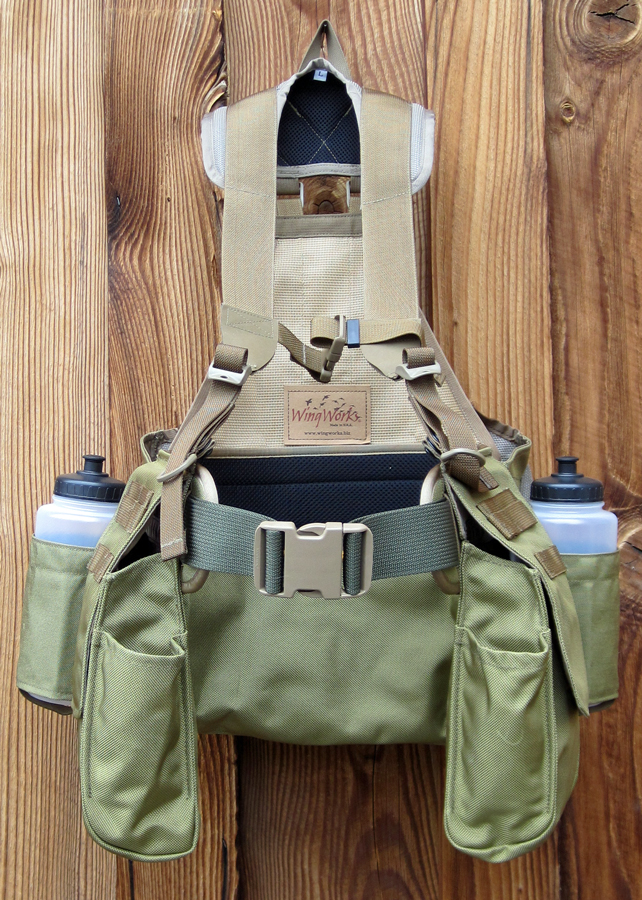 Current News and Site Info
IMPORTANT WINGWORKS UPDATES
3/2/17 Back to shipping and getting through the backlog of orders. If you have to reach us, email is always best, we typically don't pick up calls during the work day.
1/6/17 Orders including the Standard Non-Blaze Gamebags will be filled soon as we receive new shipments. If you receive a vest and have fit problems, missing items or questions be sure to contact us. We can easily work through most of these issues.
12/11/16 We have some new Gift certificate options for Ballistic Vests and Accessories available, now redeemable online in Checkout with coupon codes provided at purchase. Getting close to opening for online vest orders, hoping by the end of this week. Long Pocket Vests only to start, Grouse Pockets coming later this Winter.
5/10/16 New website up today, has a similar look but offers in addition to PayPal, regular credit card processing and better post purchase communication and follow-up. If you have suggestions for improvements, let us know.
1/15/16 In anticipation of new vest inventory we've added some new items in Hunting Accessories, Ballistol Spray Lubricant in 1.5 and 6 oz, and Counter Assault Bear Deterrent in 8.1 oz size. Hope to see things start coming in next week.
NOTE! Regarding redemption of Gift Certificates, we need measurements of height, weight and waist at navel level, not belt line. Are you Right or left handed? There is a blaze/plain color choice on the shoulder harness and game bag components. Also a choice of belt buckle styles, either a Side-Release or Cam style, the latter being the style seen on jet/airline seats. Please email us with this info, and don't forget a ground shipping address!
WHAT'S CHANGED ON THE NEW VESTS?
Molle pouch bases on each long pocket flaps allowing larger iPhone and pistol holster options, New roomier pouches on each long shellpocket for Garmin Astros, Alphas and others, bear spray, etc.

New padded absorbent lining on waist belt and harness

LH and RH shoulder harness details
HD breathable mesh on shoulder harness yoke and gamebag
Some experimental larger gamebags and breathable mesh long pockets for trainers and outfitters. Call or email us.
WHAT SEPARATES WINGWORKS FROM OTHER UPLAND VESTS?
Bombproof 1050d Ballistic Cloth exterior, fully lined with 420 denier nylon packcloth, beefed up sewing where it counts.
Modular Design: Components will continue to be interchangeable to allow users to keep up with design improvements.
Hunter ergonomics dominate design priorities, to minimize interference with climbing, walking and shooting.
Versatility in a variety of hunting and weather conditions; small on-the-body footprint for warm weather hunting, simple adjustments.
WANT MORE DETAILS?
Four sizes (M, L, XL, XXL) in Khaki and Hunter Orange/Khaki
Game Bag: Aqualon bloodproof barrier against hunter, 2 zippered accessory pockets on each side, extra water/convenience pouch inside, bringing designated water storage to 118 oz (using Ultimate Direction 54 oz bottle or hydration reservoir). Roomy rear accessory zippered pouch. Rear tie-down for extra jacket or shed antlers.
Shell Pockets: On your sides where they don't interfere. This also works for horseback hunters and ORV riders who need side-mounted bags. Pocket flaps Velcro inside pockets for fast shell access. Each pocket will accommodate large spring water bottles and training birds for trainers in hot climates. Strap connection through water holsters and game bag minimize flopping and hold vest together as a unit. Deep enough that you won't lose shells, and can carry enough.

Water Holsters: Removable, easy access holsters hold squeezable BPA free 32 oz squeeze bottles for dogs and hunters.
Shoulder Harness: Sternum Strap Harness for its' quick adjust and suitability to more difficult terrain and heavy loads. It adjusts in front and back to place the yoke where it needs to be regardless of size. Lightweight nylon shoulder straps won't interfere with gun mount!
Hip Suspension Belt: Comfortable, weight-bearing waist belt keeps load on leg and thigh muscles and stress off shoulders for more freedom of movement and less fatigue. Belt adjusts easily with 2" cam or side release buckle, and offers comfortable lower back support.
Blaze Detail Vest runs about 140 square inches of Blaze Orange, about 180 inches with the Blaze Orange Harness. Will need to be supplemented to meet some state requirements.